Cheryl Ann Blackley is a life-long resident of Davis County, Utah, graduating from Viewmont High School with honors in 1978. She was awarded a Bachelor of Science degree in Biology Secondary Education, a Bachelor of Music degree in Secondary Education with Emphasis in Winds and Percussion, and a minor degree in Music Composition; matriculating cum laude and phi kappa phi from Utah State University in 1988. She is also an Academic All-American, on the National Dean's List and a member of the Golden Key National Honor Society, as well as being listed in numerous Who's Who publications including In America, In American Education, Of American Women and In the World.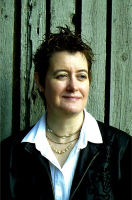 Cheryl is an active freelance musician in Northern Utah: Principal Clarinet of the USU Alumni Band in Logan, performing on Sundays on campus throughout the summer; Woodwind player for Utah Festival Opera & Music Theatre Company in Logan; Auxiliary/Substitute Woodwind Player for the Salt Lake Symphony; Principal Clarinetist for American West Symphony; Bassoonist with Beautiful Dreamer Instrumental Trio, and Clarinetist with Scherzando Winds and Wi-Fi(ve) Woodwind Quintets, performing regularly in the greater Salt Lake area and the Wasatch Back, including the Utah Arts Festival and Davis Arts Chamber Music Festival; and a solo instrumentalist, performing as Wyldwood, primarily on clarinets and saxophones, with professional backing tracks, for lecture/demonstrations, mini-concerts and sophisticated background music.
Cheryl was a founding Executive Board Member and Principal Clarinetist of the former Intermountain Classical Orchestra; was Orchestra Manager, Guest Conductor and Commissioned Composer for the former Westminster Community Orchestra; and was a woodwind player for the former Utah Musical Theatre in Ogden for 13 years, with eight years as Orchestra Manager, and the final two years as Associate Music Director and Orchestra Conductor. She has performed with the Madeleine Festival Orchestra, the University of Utah SummerArts Orchestra, at the Grand Theatre, and with the Babcock, Wasatch, Dark Horse Company and Egyptian(Park City) Theatre Companies. She is also actively involved in local school, church and community musical productions; directing, arranging and playing in the orchestras for musicals and musical revues for Viewmont, Woods Cross and Layton High Schools, Bountiful Handcart Days and Bountiful Community Theatre; and assisting in music productions and performances at The Cathedral of the Madeleine, Good Shepherd Lutheran Church, Mt. Olympus Presbyterian Church, Park City Community Church and numerous LDS wards and stakes. She is a member of the Davis Chapter of Utah Music Teacher's Association, affiliated with Music Teacher's National Association, and the Utah Music Educator's Association, affiliated with NAfME, the National Association for Music Education.
Cheryl is Owner and Director of S & D Music Studio in Woods Cross, providing private short and long term coaching sessions on clarinet, saxophone, oboe, and bassoon for students at all levels, and specializing in activities for a lifetime in music. The Studio includes computer music programs, opportunities in both solo and ensemble performance, and correlates instruction with local band directors and the Utah State Core Curriculum in Music. Cheryl also offers professional music engraving/notation and arranging services; and is also a commissioned and award-winning composer.
Cheryl still lives in Woods Cross, in the home where she was raised and where her studio is located, sharing the home with her semi-retired father, from whom she is purchasing the home, and their dog, Chloe, a Bouvier des Flandres rescued from San Antonio, Texas. When she has the time, Cheryl loves to cook and bake, work in the garden, read "hard" sci-fi novels, and assist as a member of the chase crew on her brother's off-road desert racing team.
Read Cheryl's full Resume here.