Growing Up
Though opened in 1988 S & D Music Studio can trace its beginnings to many, many years before. As Cheryl was entering junior high school, she was interested in learning to play the clarinet, but didn't say anything, as she knew her family couldn't afford an instrument. She confided this in a family friend who promptly informed her parents, and, on the first day of classes, her schedule was changed to add a beginning band class. Having missed the summer band program, Cheryl had some catching up to do. But it didn't take long, and family members were soon asking her if she could "please stop practicing now," and not just because the dog loved to sing along.
Even in elementary school science, especially biology, was Cheryl's first love; and she continued her interest and studies in aquatic invertebrates throughout her school years. But music was also a strong pull, and she began to explore other instruments, including the saxophone, oboe and bassoon. In high school, she discovered private lessons, something her non-musical family knew nothing about, and was soon immersed in private study on the clarinet – at one point spending up to three hours a day practicing, partly to counteract the poor habits learned in the band program with a non-clarinet playing band director. Time, it turned out, that was well-spent as most of her technical skills were developed then. But music was not a career option, as she only knew of two professions in music – symphony player or school teacher – and neither one was of the least interest to her.
But later in high school Cheryl began running sectional rehearsals in band, and then informally working with the less-experienced players in the band; eventually teaching beginning players regular private lessons. She played in all the school instrumental groups – symphonic, marching and pep bands, full orchestra, musicals, small ensembles and solos for festivals – and outside school in the Utah Youth Symphony, Westminster College Community Symphony Orchestra, Bountiful Community Theater, and various Church-sponsored musicals. She also played in the Utah All-State Band, 2nd chair clarinet, her junior year, and in the Utah All-State Orchestra, 1st chair clarinet, her senior year; traveled to Europe for four weeks as a Utah representative for America's Youth in Concert, sitting principal 2nd clarinet in the band; and faithfully attended band camps each summer. She also enrolled in all the science and math classes she could fit into her schedule, joined the Science Club and National Honor Society, and attended every science symposium and fair possible.
The College Years
Cheryl graduated from Viewmont High School with honors and decided to attend Utah State University on a freshman Academic Honors at Entrance scholarship majoring in Wildlife Science and Environmental Studies, but not without first checking out the campus and being impressed with the music program and, especially, the marching band (Cheryl was a true band geek, participating in marching bands for ten years). She quickly became a section leader and earned extra money for school, as well as for being a member of the pep band and working as band librarian. She participated in as many large and small ensembles as she could make time for, and studied privately on clarinet, then eventually saxophone and bassoon, having fit in private oboe lessons while still in high school. She also continued teaching privately, working on the faculty for summer music camps, volunteering with public school band programs, and playing for a number of community and professional groups. After three years of school the music department offered her a full tuition waiver, but only if she declared as a music major. So she added music education as a second major (performing was still not a career option), transferred her science credits to a biology education major, and added a minor in music composition.
Even as she was working her way through her secondary education and music methods classes, with regular stints as a substitute teacher, and then through her internship, student teaching, and certification, it became increasingly clear that a career as a public school teacher was not going to be possible (even though the education office also wanted her as a science teacher). With the realization that she was simply too independent in her ways and intolerant of unreasonable and uninformed demands, and faced with increasing health problems, Cheryl set about to develop her own teaching studio. From secondary education class assignments, and directed guidance from her music professors, came the name S & D Music Studio, and the initial format and structure of her studio procedures and policies.
Studio Choices
Cheryl graduated from Utah State University cum laude and phi kappa phi in June of 1988 with a Bachelor of Science in Biology Secondary Education, a Bachelor of Music in Secondary Education with Emphasis in Winds and Percussion (or, Band Director), and a minor in Music Composition; and registered her business with the Utah State Department of Commerce in July. She immediately set up her studio in the basement of her Woods Cross family home and started teaching. Students took time to recruit, so Cheryl worked part-time at Wasatch Education Systems in Murray as the head tester for science and math programs in the quality assurance department, until she had enrolled enough students to support the studio. But it quickly became clear that the studio needed to be in a commercial location as home-based businesses had not yet become common.
Cheryl moved her studio to several different commercial locations in Bountiful during the next ten years, each time improving the facilities for the studio, adding room for the computer lab, and, for a period of time, even a recital hall available for rental. Eventually there was enough interest that Cheryl hired several of her recently graduated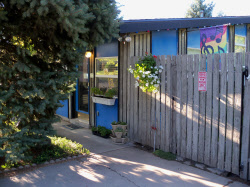 and advanced high school students as teachers for her beginning students. Then enrollment began to taper off, and Cheryl, still living at home for free, realized that leasing a commercial location was a constant never-ending drain on her finances. After serious discussion with her parents, and the realization that home-based businesses were increasingly becoming accepted, Cheryl obtained a loan, built the present studio at the back of the family home, and finished the family room area downstairs for recitals. With the loan paid, Cheryl is now purchasing the home from her parents; and with her health limitations, having the studio at home is a real advantage.
For most of the studio's existence, Cheryl has taught using the traditional structure of private lessons, modified with her knowledge and training in classroom structure and management. Thus, individual lesson plans were set up for each student, showing week-by-week what was to be assigned, completed and learned throughout each semester of instruction. Minimum practice times were set forth, and students not maintaining that minimum were placed on probation, then invited to leave the studio, especially when there were those on a list waiting for an opening. Lessons were initially 30 minutes in length, with a 30 minute computer session, but after only a few years were lengthened to 45-minute lessons and computer sessions; and solo recital participation was also required twice a year. But times began to change, and young people became busier than ever before, involved in many more extra-curricular activities, and taking more advanced classes in school. Gradually practice times went from being a requirement, to being a recommendation, to being a suggestion, and still students didn't get the practice or the computer lab time completed. So, in 2009, after twenty years of essentially the same style of teaching, Cheryl instituted a real paradigm shift at the Studio.
The New Philosophy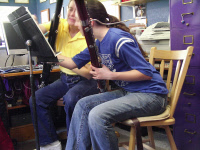 S & D Music Studio now offers coaching sessions to members of the studio, rather than lessons to students, and additional music activities including working on computer programs are an integral part of each session. Practice times recommended for each age group are designed, with focused strategies, for maximum results in the midst of a busy schedule; and recitals are now an optional activity, as well. Cheryl no longer outlines each member's weekly assignments, or monitors their total practice time. Rather, each member now decides what it is they want to accomplish with their music personally and/or professionally, in school and extra-curricular activities, and these short- and long-term goals are written down and discussed. Cheryl then recommends the activities each member should engage in to reach the stated goals, but it is up to each individual as to how quickly those goals are achieved. Each week, the member attends a coaching session and plays what they have worked on, and Cheryl then makes further recommendations. Of course, less-experienced members receive very specific direction and guidance, while more advanced players make their own decisions as to the amount of work they are able to accomplish. Session attendance, the number of practice sessions and additional outside music activities are noted and points are given each week, mostly so Cheryl can continue to enjoy choosing and awarding individualized gifts for the highest points earners to participating members at the recitals each January and May. As a result of this quite different approach to private instruction, especially at the secondary school level, no one is turned away from the studio, unless there is clearly no interest on the part of the member to actually learn to play the instrument. There is no pressure or requirements placed on the members, except for what is self-imposed, and, perhaps, school band requirements; other than to respect Cheryl's time in regards to attendance, and the spending (for most) of their parents' money. Members are able to adjust their personal practice schedules based on what else is happening in their life or at school for any particular week, and there are always activities at the studio for coaching sessions on those weeks when little practice has occurred. Ideally, the studio atmosphere is one of mutual learning and exploration, with many experiences in making music for enjoyment, and the realization of the myriad opportunities there are to be involved in music throughout one's lifetime.